International Recycling with plunc™
---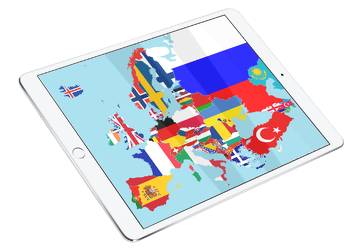 In the UK we are rated the best recycling company online so we are excited to expand into Europe and build just as good a reputation.
We have flexible options for you to send your iPad to us here in the UK from Europe. You can drop off your parcel at UPS drop off points or book a collection, whichever is more convenient for your location. Once you've created a submission, we'll be in touch with your postage label for you to stick on the package.
Prices can be paid in EUR, we use the official European Central Bank exchange rate with no added fees. If you find a better offer online from a reputable recycler (in EUR or GBP) - we will match it. We always pay the same day we receive your submission.
---
Note: texts contain custom design, make a copy of content as a backup from /admin/section page once click on Edit button on admin page;
for instance IR trustpilot : &ltdiv class="trustpilot-widget mt40" data-locale="en-GB" data-template-id="53aa8912dec7e10d38f59f36" data-businessunit-id="5644b19e0000ff000585745b" data-style-height="220px" data-style-width="100%" data-theme="light"data-stars="5"&gt &lta href="https://uk.trustpilot.com/review/plunc.com" target="_blank" rel="noopener"&gtTrustpilot&lt/a&gt &lt/div&gt
 Plunc trustpilot:  &ltdiv class="trustpilot-widget mt40" data-locale="en-GB" data-template-id="53aa8912dec7e10d38f59f36" data-businessunit-id="5644b19e0000ff000585745b" data-style-height="220px" data-style-width="100%" data-theme="light"data-stars="5"&gt &lta href="https://uk.trustpilot.com/review/plunc.com" target="_blank" rel="noopener"&gtTrustpilot&lt/a&gt &lt/div&gt
We're voted independently as the best online recycler:
Note: texts contain custom design, make a copy of content as a backup from /admin/section page once click on Edit button on admin page;
for instance IR trustpilot : &ltdiv class="trustpilot-widget mt40" data-locale="en-GB" data-template-id="53aa8912dec7e10d38f59f36" data-businessunit-id="5644b19e0000ff000585745b" data-style-height="220px" data-style-width="100%" data-theme="light"data-stars="5"&gt &lta href="https://uk.trustpilot.com/review/plunc.com" target="_blank" rel="noopener"&gtTrustpilot&lt/a&gt &lt/div&gt
 Plunc trustpilot:  &ltdiv class="trustpilot-widget mt40" data-locale="en-GB" data-template-id="53aa8912dec7e10d38f59f36" data-businessunit-id="5644b19e0000ff000585745b" data-style-height="220px" data-style-width="100%" data-theme="light"data-stars="5"&gt &lta href="https://uk.trustpilot.com/review/plunc.com" target="_blank" rel="noopener"&gtTrustpilot&lt/a&gt &lt/div&gt