Payments
When do I get paid?
At plunc™, we're fanatical about our payment timescales. The day your device arrives with us is the day you get paid. No waiting around.
---
What payment methods are available?
Instant transfers are available by bank transfer & PayPal.
---
What happens if I get the model or condition wrong?
If there is any discrepancy we will contact you with a revised offer. For example, if your submission says it's an iPad Mini 3 and we determine it's an iPad Mini 1, then we'll send you the appropriate offer and you have 7 days to either accept or decline the new offer. If you choose to decline then we will send your iPad back free of charge.
---
Do I need to send in my charger, USB cable or Apple case?
The price we offer is for the iPad only, you do not need to include anything else to get your full price. However, if you do not have any use for your iPad accessories we can responsibly recycle them for you.
Postage
How do I get my stuff to you?
UK:
When you complete your submission you will receive the option to print your pre-paid postage label straight away, or wait for one to be mailed to you through the post. This postal method is tracked and insured for up to £100.
Rest of Europe:
You will be send a pre-paid postage label to print out and affix to the package. Then take it to one of 1000s of drop off points around Europe. Read more
Big stuff:
For iMacs or bulk submissions that are difficult to pack and please get in touch and we will have some options for you. If you need we can send you appropriate packaging to return the items to us in.
---
What if it goes missing, or gets damaged in the post?
If you use our pre-paid label then we can claim up to £100 for loss or damage, however damage is only claimable if the parcel is packed sensibly - e.g. do not post an iPad just in a jiffy bag. It is your responsibility to use common sense in packing the order well as if damage occurs in transit you cannot claim insurance if it wasn't properly packed.
---
Can I send my submission through my company? Can I use my own postal method?
If you prefer to use your own postal service then you must include your reference number so we can identify your package. Please send to the following address:
Plunc Recycling - Suite 206
The Pentagon Centre, Washington Street
Glasow, G3 8AZ
---
I've missed the deadline, what do I do now!?
Don't worry, we're not militant on the 14 day deadline! If you're a day out we're not going to drop your offer!
If you decide to keep your tech for a while longer, then just submit again with us when you're ready.
Condition
What does "New", "Working", or "Damaged" mean?
New means brand new, sealed in the box.
Working means fully functional, no cracks or heavy damage. [1]
Damaged means the device has some faults e.g. a cracked screen, faulty camera, faulty buttons, LCD damage etc. [2]
[1] battery health is expected to be at least 75% otherwise we may deem the device to be faulty.
[2] if you are trading in a damaged device it must at least turn on or show some signs of life.
If your device doesn't meet the classification you stated we will return your device to you free of charge, or can offer you the appropriate price, whichever you prefer.
---
Do you take money off for scratches?
No, a working device is a working device. As long as there are no cracks or severe damage, we will accept it.
---
My device is working but has x issue, will you pay the full working price?
Anything that can be deemed a fault will drop the device to the 'damaged' offer, which is flat-rate. These could be subtle faults that you may not be aware of. For example, an LCD (underneath the screen) could be at the end of its life and have small white spots, dead pixels or give off a faint yellow colour. The LCD would need to be replaced in a professional refurbishment and therefore we could only offer the 'damaged' price.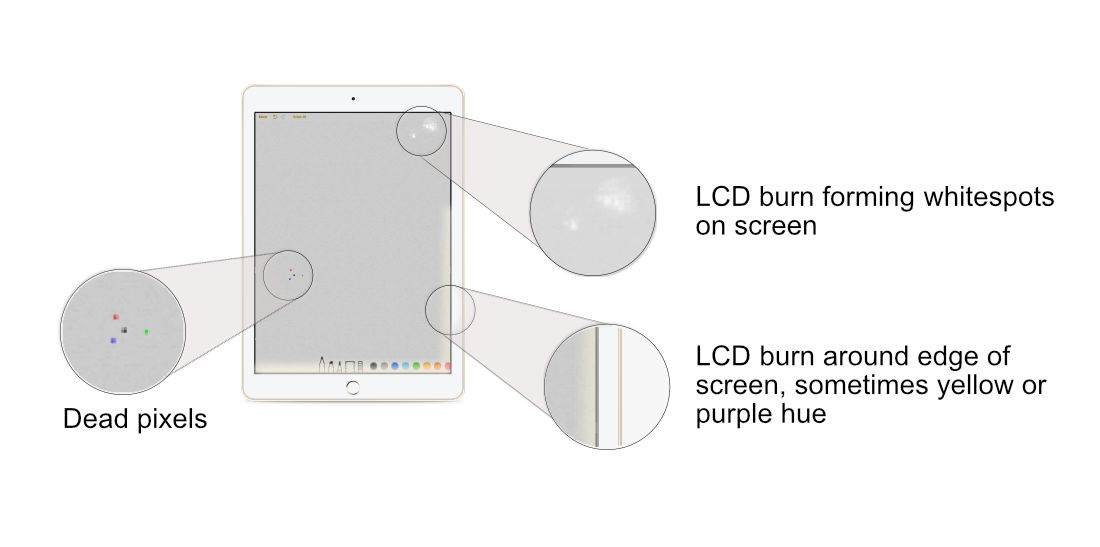 Please note: If for any reason we do have to downgrade your offer we will never do so without your confirmation first. If you don't agree with the new offer we can simply send the device back for free.
Data
I'm worried about my data, what can you do to help?
It is essential that you remove iCloud accounts from Apple devices. If you first erase the device, and then remove your iCloud account then your data is safe.
Likewise for Android devices, you must remove any Google account protection that you have on the device and erase your data. Simply find in your Settings menu the storage settings and hit Factory Data Reset or similar wording.
---
Details of our extra security measures available for SMEs and corporate clients:

The built-in factory reset function on iPads is not suitable for sensitive and confidential information

We use the only data wiping software in the world that meets NIAP's EAL4+ security standard and is approved by the U.S. Department of Defense

Fully comprehensive certificates confirming data removal with protection and indemnity insurance included
---